Coronavirus free Hotel / Disinfection in Hotel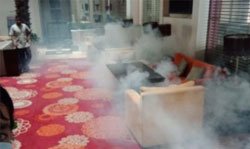 Disinfection or sanitization, Ultraviolet light has long been used as a disinfectant in health care zones, but as Hotel businesses cautiously reopen their doors in the wake of the coronavirus pandemic, the technique is beginning to spread far more widely, from hotels & Hospitality industry to public transportation, even potentially to other entertainment industry
As the Hotel Industry begins to open for the incoming guests the need for disinfection in hotels also becomes critical. Customers often think is the hotel room or the other areas are really been disinfected or
What could be the right frequency of sanitization in hotels ? or How may times should surfaces be disinfected?"
Presently implemented in hotels post Corona pandemic
. Some of the ways already been considered by hotel staff are Regular checks like temperature, oximeter, etc are done to the hotel staff and incoming guests. Surface exposure - Regularly touched surfaces and low touch surfaces , these are identified by the hotel disinfection team, in such cases Hotel team increase the frequency of disinfection on the high touch surfaces to twice or more a day, and low touch surfaces to once a day to as an sop in sanitization in hotel rooms or other areas To reach a covid free hotel its very difficult however hotel hotel management have started implementing the newly instituted health and safety protocols as part of ever-evolving operating procedures to help their employees and guests. Special consideration should be given to cleaning and disinfection in hotel measures in common areas (restrooms, halls, corridors, lifts, etc.) Extra attention should be given to objects that are frequently touched, such as
handles, elevator buttons, handrails, switches, doorknobs, etc. Cleaning staff should be instructed accordingly
Hotel staff should also give special attention on hotel rooms where the guests are having health issues , so that those rooms can be sanitized more thoroughly after the exit of the guest ,thereby creating a much better environment for the new incoming guest.
Present Methods adopted by most of the hotels in making a corona virus free hotel .
Already hotel industry channel partners like
Make My Trip
and others have now introduce special hygiene requirement for sanitization in hotel rooms , other hotel environment and very useful guidance and same are displayed in website promotion so that prospective customers can book such hotels and feel safe and stay in such hotels. So here is huge business for hotels with "my Safety" and others loose their customers and loss of business. All hotels listed under My Safety-Safe and Hygienic Stays meet a comprehensive safety checklist with trained staff to provide guest peace of mind during they stay. Still theses sanitizing methods are far more lower than the disinfection methods adopted by the western & developed countries. Hotels have standard room-cleaning practices, which have been upgraded since the pandemic. But there is no universally accepted way to clean a hotel guest room. "Typically, cleanliness is based on visual inspection. This provides an aesthetic evaluation but not an assessment of the possibility of microbial contamination or to make a virus free hotel.
Inspite of Expensive Chemical Sanitization Are Hotel Rooms "Disinfected" ?
Part of the challenge in defining appropri-ate cleaning is that cleaning of hotel rooms presents some unique management issues but certainly cannot make covid free hotel rooms.
Time limitation
- In addition to staffing challenges such as the limited amount of time available for hotel room cleaning, the surfaces to be cleaned are different than in other industries.
Damages to equipment due to harsh chemicals for disinfection
- damaged by liquids, or susceptible to discoloration or bleaching from certain detergents or sanitizers. At the same time, little academic research has been done to assist managers in the hotel industry with these challenges.
Why Microbiological assessment is necessary
- Hotel room cleanliness is based on observation and not on microbial assessment even though recent reports suggest that infections may be acquired while staying in hotel rooms. Definitely 100% covid free hotel can not be reached but there are newer ways to reduce the virus load . Data suggested the presence of microbial contamination that was not reflective of visual assessments. Unfortunately, no standards exist for interpreting microbiological data and other indicators of cleanliness in hotel rooms. As many customers now search for Virus free hotels , In summary, many industries no longer consider visual assessment adequate for assessment of cleaning and other more objective standards are being researched. The concept of looking at microbial levels after "best practices" or "rigorous" cleaning, however, may be useful. General microbial contamination has been quantified through aerobic plate counts (APC). Results are reported as CFU/ cm2. These tests give specific information relative to bacterial contamination, but are more expensive and time consuming than ATP tests.
Conclusion
- Microbiological testing is used as a hotel cleaning bench-mark, almost all tested surfaces (headboard, bathroom and room door handles, bathroom and shower floors, bathroom sink and faucet, mug, toilet paper holder, entry carpet, tele-phone and TV remote keypad, bedside and main light switches, toilet basin, and three items from the maid cart including a glove, mop, and sponge) Almost all hotel room surfaces failed when microbiological standards set in other industries were used for the hotel rooms.
Click Here for information on UV radiations & our UV products